My great grandfather founded this steamed bun business when he immigrated from China. During his era, lots of Teochew Chinese immigrated to Thailand. He was Teochew as well. Even King Taksin was a Teochew but that was long before my great grandfather's time. I keep running this family business now in the fourth generation.
Salapao is a classic Chinese staple and every Chinese ethnic group has its own recipes and styles. I make Teochew style steamed buns. It's different from how people in Hong Kong make it. The Cantonese like their Salapaos filled with BBQ pork, red bean and custard. It has a fluffy texture while the Teochew version is gummier. We also add sweet potato to give the steamed buns a softer texture.
Back in the days our shop was operating 24/7, we made Salapao during the night time and Ba-Jang during the day time. Eventually we stopped making Ba-Jang because of the tedious process. You had to pick, clean and boil bamboo leaves for the wrapping. Throughout the years of cleaning those leaves my mom's fingerprints disappeared. Back then we had sevenworkers but now there are only two workers left. It has become quiet here.
I'm very contend with my life. My work time is flexible and I accept only orders that I can handle. I usually work alone but I've got a good old pal who helps me out. He's been helping our business since I was 12 but he's 60 now and he is in poor health and can't do much. […]
When I was seven our community was a slum. You could find drugs and prostitutes. On my way to school I saw people taking heroin. First, they weren't injecting but smoking it in a cigarette. Heroine was very dangerous and laws were not strict. It was easy to get robbed. Fortunately, my grandmother was very pious and observed many religious precepts. She prayed, she was vegan and taught everyone to be compassionate and that kept everyone in the family away from drugs. Some workers became addicted to drugs. The police arrested them and sent them to Kra Bok Cave for treatment. […]
Nowadays, the living conditions in our community have improved but there are still positive and negative sides to it. The downside is that there is not as much solidarity and social cohesion as in the past when everyone in the community treated each other as family. But as time went on, people passed away or moved away. People from Sampeng bought buildings in this community and turned them into warehouses. Also, workers from the Isarn (northeastern region of Thailand) moved into this community to make a living in Sampeng. Initially there was friction but now we all get along and there aren't any problems anymore. There is even a woman from Isarn who has been here for so long that she can speak Chinese.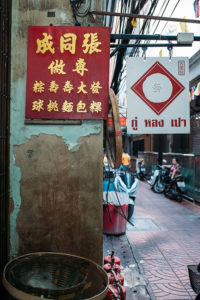 My house is more than 100 years old. There is an old house at Luang Kocha Itsahak Mosque, a Chinese medicine shop named Por Khun Niea Bor at Sampeng and a Chinese shrine at the back of my house. There are a lot of heritage buildings in our community. The shrine is over a century old and dedicated to Sia I-ung Kong. I'm also the caretaker of this shrine which belongs to the Ministry of Interior. Most of the worshipers are Teochew and there are a few Cantonese. You can find the Sia I-ung Kong Chinese Shrines in Bangkok, Suphan Buri, and Samut Sakhon but this one was the first shrine. Sia I-ung Kong rules and protects everyone. He acts as a judge and his bodyguards arrest bad spirits. We dedicate four festivals per year to the deities and I just like the steamed buns. I would love to preserve our heritage.